I can't release this (for obvious reasons) but I thought I'd post some screenshots.
This Pokemon Ruby proto has a debug menu with some nice things and cheats.
Enjoy!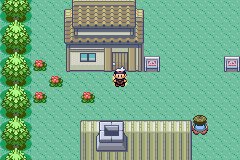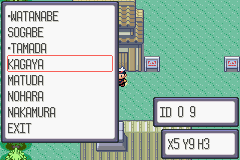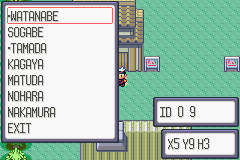 The game has menus for each programmer, likely for them to test their respective subprojects. The ID is the map ID. The X, Y, H numbers are the X, Y, Z coordinates.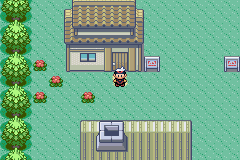 Nothing seems to happen when you select WATANABE. A "successful save" sound plays but nothing apparent happens apart from that.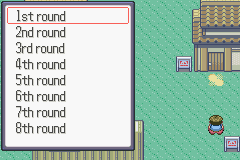 This is the SOGABE menu. Nothing seems to happen when you select either of these.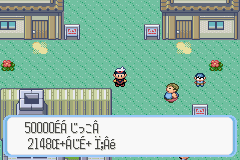 The TAMADA menu. No idea what this means.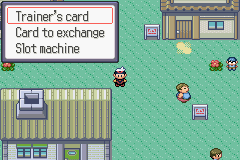 The KAGAYA menu. The trainer's card, surprisingly, shows your trainer card. The "card to exchange" shows something like your foe's trainer card. The slot machine option runs the slot machine minigame.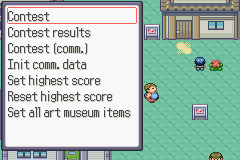 The MATUDA menu.
The NOHARA menu.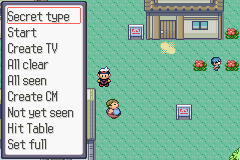 NOHARA's TV submenu.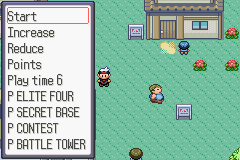 NOHARA's Fan submenu.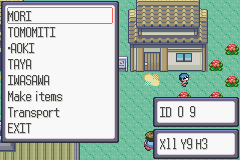 The next set of debug menus. Transport lets you fly to any place on the map (not just cities). Pretty nifty.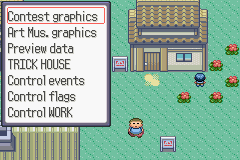 TOMOMITI's menu.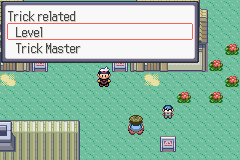 Trick house.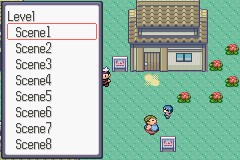 More trick house.
More trick house.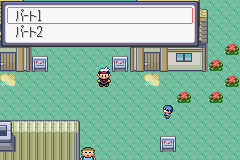 TOMIMITI's Control Events.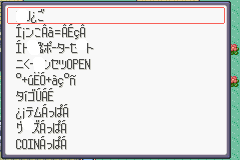 This is what happens when you select the first option.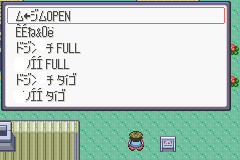 The second option. The OPEN thing takes you to the last gym.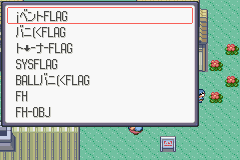 The flag menu.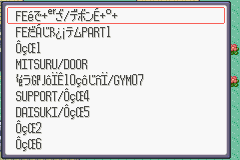 The first flag submenu.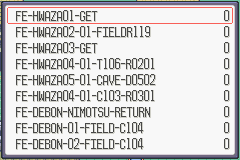 Flags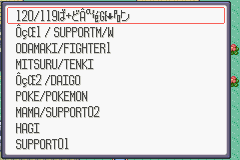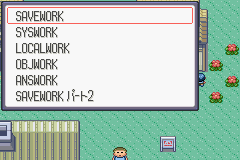 Control WORK. The next few shots are WORK submenus. And flag menus.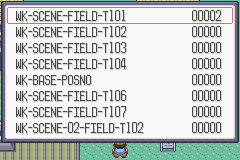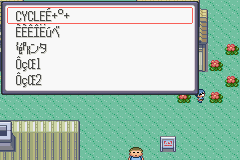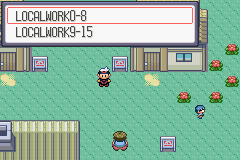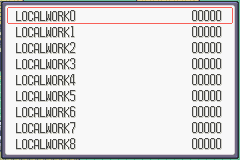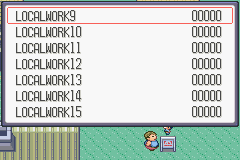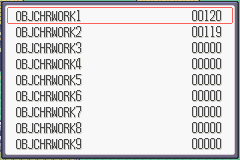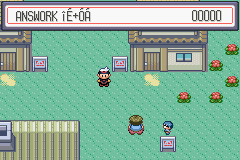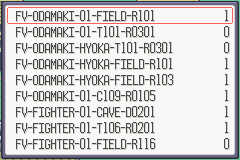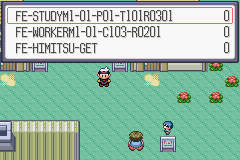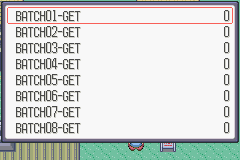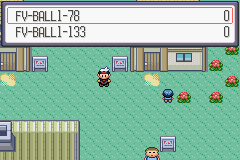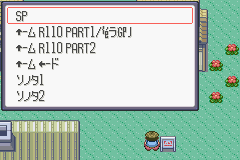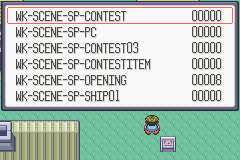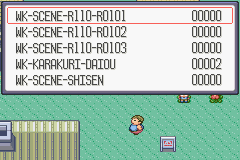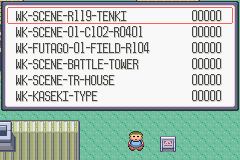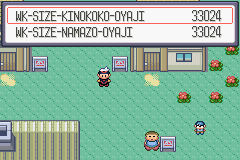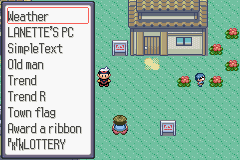 TAYA's menu.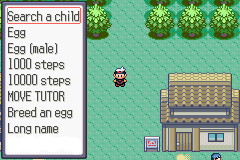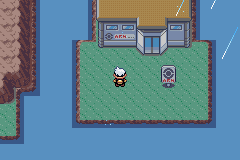 I can control the weather!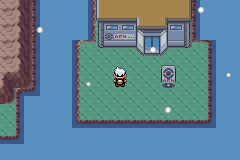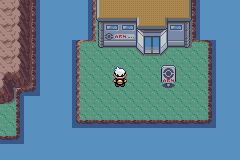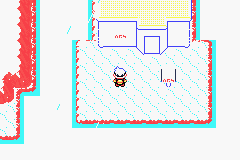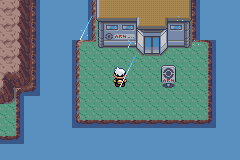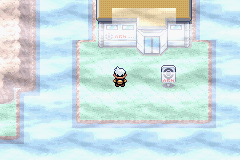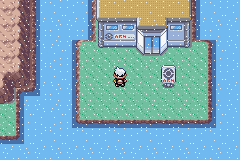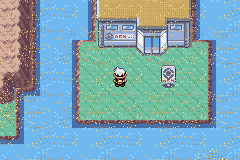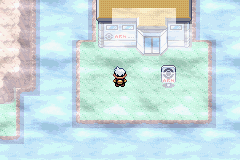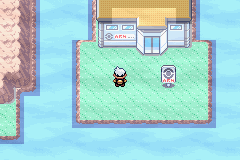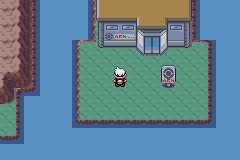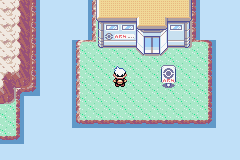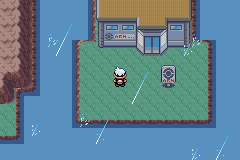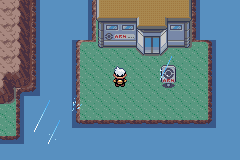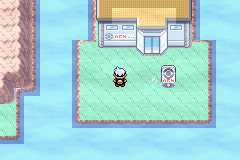 I can even make the weather underwater!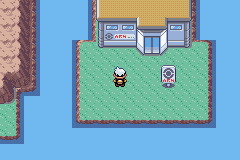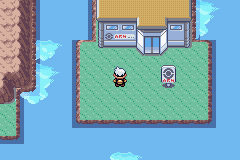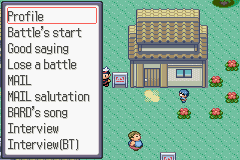 Simple text.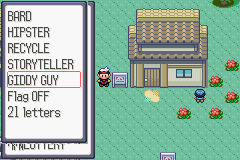 Old man.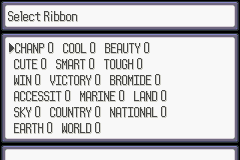 Award a ribbon.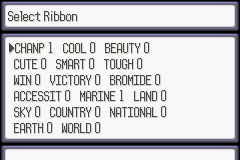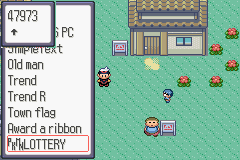 You can rig the lottery.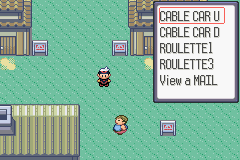 IWASAWA's menu. The cable car options show the cable car cutscene. The Roulette options start the roulette minigame.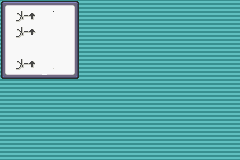 View a MAIL menu.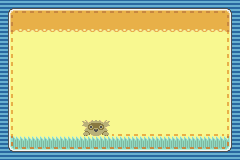 Something that happens when you select a bunch of them.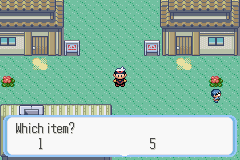 Make an item. You can give yourself a bunch of master balls.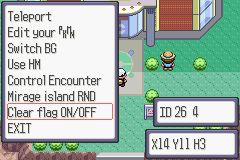 Another set of menus. Teleport teleports you to your house. Edit your PKMN lets you edit your pokemon - their stats, etc. Use HM lets you use any HM and Flash.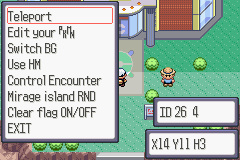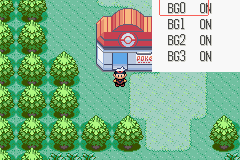 Switch BG - you can turn off some layers on the screen.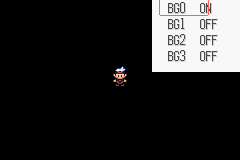 For example.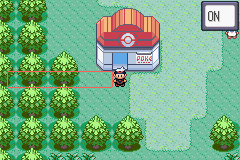 The control encounter menu. Lets you disable wild pokemon fights. Repel forever, baby.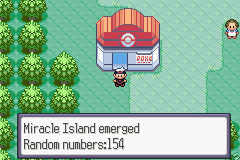 Mirage island RND. This probably controls whether Mirage island appears or not.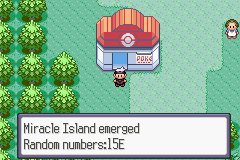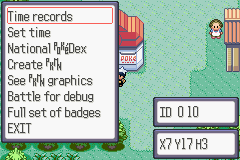 Another set of menus. National Pokedex seems to do nothing. Battle for debug is a confusing menu and I have no idea what it does.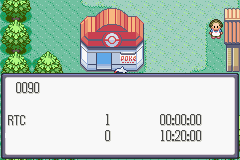 Time records.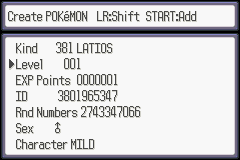 The create PKMN menu. Lets you create any pokemon you want.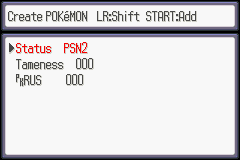 PSN2 is toxic I think.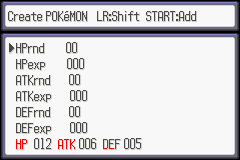 Apparently IV and EV are called rnd and exp internally.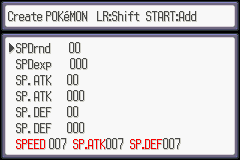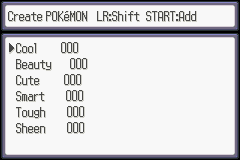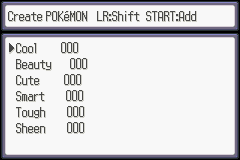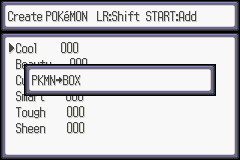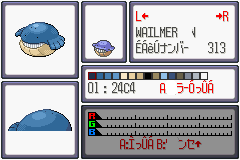 The 'see pkmn graphics' menu. You can view all the pokemon and even edit their palettes. Oddly enough pokemon 252-276 are missing (treecko is 277). Removed pokemon perhaps? I wonder if they're still in the rom somewhere.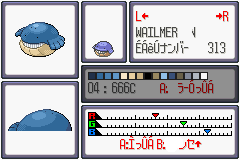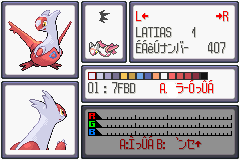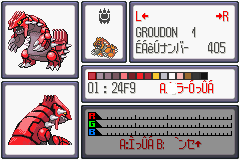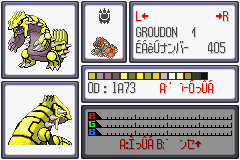 Ever wanted a sucky yellow Groudon?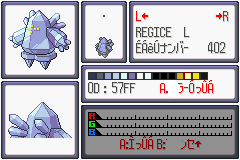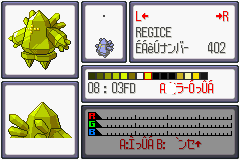 I realized shiny Groudon are yellow so I made this ugly green-yellow Regice.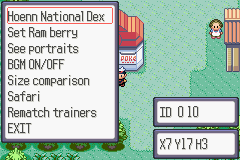 Yet another set of menus. Again National Dex does nothing. Neither does Safari BGM ON/OFF lets you disable music.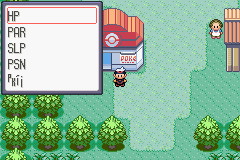 The Set Ram berry menu. No idea what it does.
The size comparison menu. Lets you resize the pictures and move them around.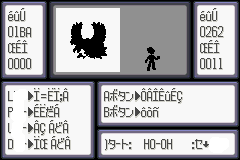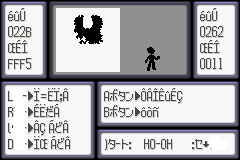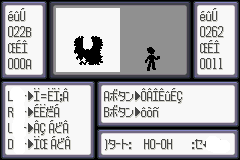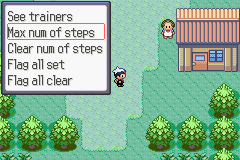 The rematch trainers menu.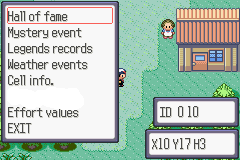 Another set of menus. Mystery event enables the Groudon/Kyogre thing.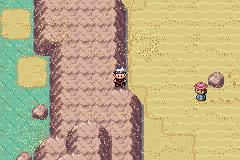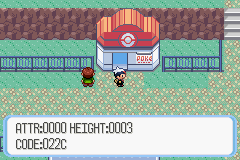 Cell info. Seems to be about the current map tile you're standing on.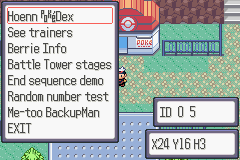 Next set of menus. Hoenn Pokedex does nothing yet again.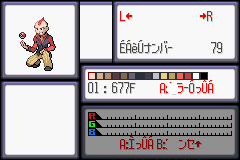 See trainers. Trainer editor, just like the pokemon one.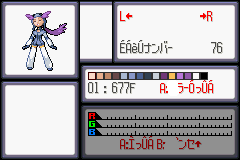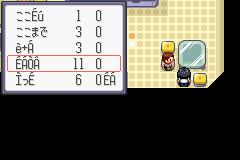 Random number test.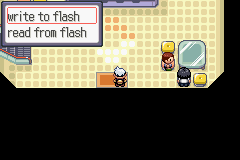 Me-too BackupMan. Savestates? I'm not sure, reading doesn't work.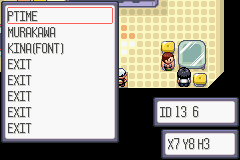 The last menu.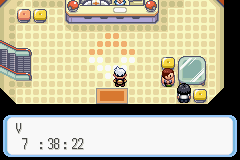 PTIME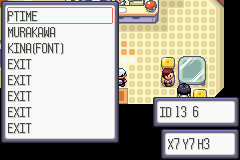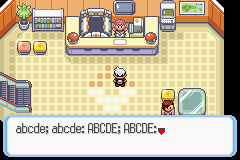 KINA's font test.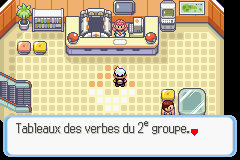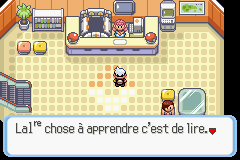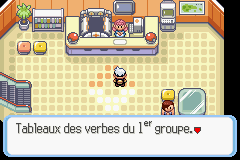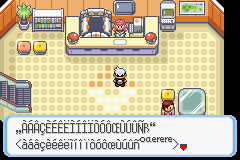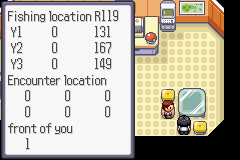 Fishing points.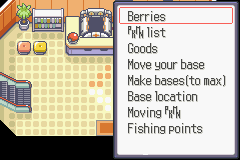 NAKAMURA's menu.